What better way is there to de-clutter while making some extra cash as you are getting ready to move to your new home? A garage sale is a great way to lighten the load. In addition, it can be a fun method of bringing neighbors together to have a neighborhood sale, which will attract more shoppers.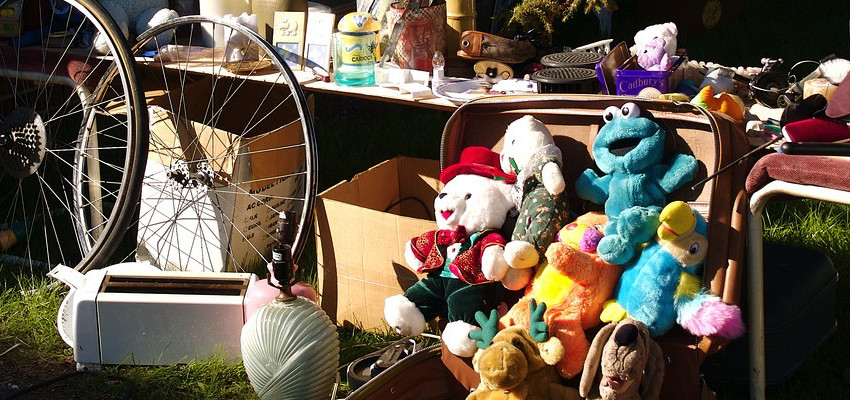 What to Sell When Moving
Now is the time to organize your closets, drawers and garage. Gather together all of the sale items in one staging area near to where you will hold the sale. For example, in the garage if the sale will be in the driveway.
Take a little time to make minor repairs. Sewing a visible gap in a seam can mean the difference between a sale or a donation. Bundle together like items, such as a pitcher and matching glasses, or muffin tins and a cooling rack. Or you can put unrelated items together as fun grab bag specials. Take a little extra effort and launder clothes and linens. If you have many clothing items to sell, separate them by size and clearly label them.
As you go through your home and find items to sell, put price tags on them and take them to the staging area right away. If you wait until the day of the sale to price items, you could fall behind and be unprepared.
Advertising Your Moving Sale
One key element to a successful garage sale is to properly advertise. You have many channels and venues to do this, and you should take advantage of as many as you can. You can also highlight merchandise that may be collectible or intrigue potential shoppers.
You can advertise your garage sale by:
Running an ad on Craigslist
Announce it on your Facebook page or Twitter feed.
Run an ad in the local newspaper
Put signs up on bulletin boards in local stores
Put up easy-to-read signs with time, date and arrows pointing the way
Be sure to have a big sign out in front of the sale. Many people make it a hobby to simply drive around on a Saturday morning to find sales.
The Day of the Moving Sale
Here is a list to things you need for the day of the sale:
Plenty of change, especially dollar bills. You can get coin rolls at your bank, and be sure to count your change prior to the sale, so you know what you started with.
Paper, pencil and hand calculator
Wrapping supplies such as newspaper, cardboard boxes, shopping bags, twine, scissors and a stapler.
Have a firm CASH ONLY policy and have a sign announcing the policy.
Keep your pets confined to the back yard or inside the house. Some pets can be overly excitable by crowds, and some shoppers will avoid dogs.
After the Moving Sale
Hopefully, you sell everything. But if you have some items leftover, consider donating them to Goodwill or another charity. They will give you a receipt for the donation for tax purposes, and you won't be transporting goods to your new home that you really have no more use for.
Now you will have a little extra cash in your pocket, and your relocation just became much easier. Plus, you probably had a little fun too!
Similar Posts
It's a natural for summer to be the most popular season for moving. You avoid the inclement weather of winter. If you have kids, you won't disrupt the school se...
Are you moving items that have considerable value or may be easily damaged and difficult to replace? You may want to protect those items with additional insuran...