The current housing market may be a seller's dream, but you still might need to do a few small improvements on your old home to ensure that it sells quickly. You want to move in to your new home as soon as possible, so Global Van Lines offers you these five DIY fixes that take little effort and materials to make your home more appealing to potential buyers.

Clean the Grout
Grout in the bathroom, kitchens, and mudrooms attract grime that leaves it dingy. To clean and whiten it, you can try an OTC grout cleaner from your local hardware store, or you can make your own solution with half vinegar and half water. Spray the grout and let it sit for a few minutes. Then scrub with a brush and wipe clean.
Fix Squeaky Doors
Potential buyers will notice squeaky doors as soon as they enter your home. Old door hinges need only a little TLC to remain quiet. If you don't have WD-40, then a little a little petroleum jelly on the hinge pins will do the trick.
Touch Up the Caulking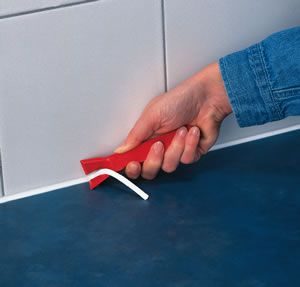 Sometimes the caulking in the bathroom and kitchen can begin to separate from the wall. This could happen around the bathtub, bathroom vanity, windows, doors, and pipes. You can hire a professional if you wish, but with a little planning and elbow grease, you can do it yourself. You will want to remove the old caulk and use painters tape for cleaner lines. Pull the caulking gun rather that pushing it as you fill the space. Most local hardware stores will be able to provide you with more explicit instructions.
Install Crown Molding
This is an easy way to give your rooms instant charm and craftsman-style personality. You may want to have a second person helping you, but with just a few tools, you can install crown molding around floors, ceilings, doorways, or windows.
Replace Knobs and Pulls
The quickest way to update cabinetry is to replace the knobs and pulls. You can go modern or look for vintage style hardware to touch up the bathrooms and kitchen. Make sure you accurately measure the existing holes if you don't want to drill new holes for knobs and pulls that don't fit.
Now that you are finished with improving your old home, it will be time to research movers. Global Van Lines offers you a personal Moving Concierge free of charge to assist you with planning and implementing your relocation. We have a vast network of service providers who are reputable and reliable. Simply input your current and destination zip code, and you will instantly receive the name and phone number of a local professional Moving Concierge to assist you.