Moving day has arrived! You're packed, the rental truck or movers are outside, and despite your hope for a sunny day, black clouds are moving in promising ruined furniture and soaked boxes.
Moving in difficult weather doesn't have to be a nightmare. Being prepared and following some simple steps will help protect your belongings and save you on the anxiety.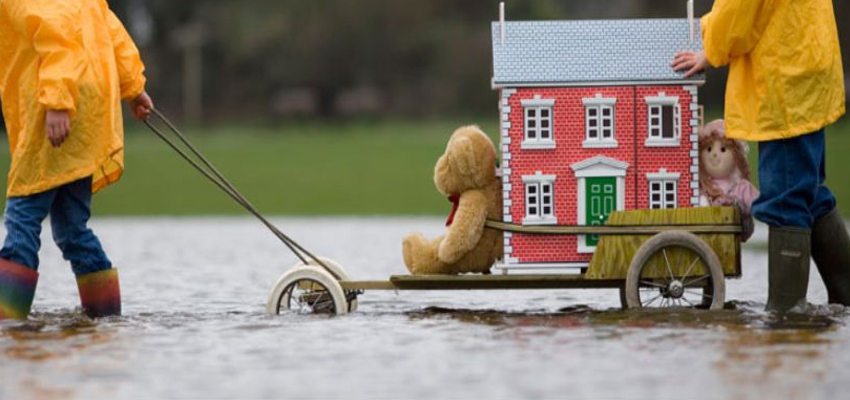 How to Protect Your Belongings on Move Day From Bad Weather
While rain and snow might worry you about the boxes, cardboard can hold up quite well. Seal the boxes with packing tape, and everything should be safe, although you don't want to just let them sit out in the rain!
Loose items such as furniture, artwork or clothes on hangers need extra care. Some moving companies sell or rent pads, industrial plastic covers and other handy items to help you in rain, snow or hail.
Some common household items can come to the rescue on moving day:
Plastic wrap can substitute as shrink wrap to prevent rain or snow from getting at your goods.
Large trash bags can be transformed into garment bags to cover clothing on hangers.
Heavy blankets, sheets and pillows can protect wood furniture.
Preparing Your New Home on Moving Day
If you are moving in-town, make a trip to the new home first to prep it. Lay towels or rugs inside and outside the front door to avoid tracking in water or mud. If it is cold outside, you should ensure that utilities are on so you can turn on the heater upon arrival.
Preparing Your Moving Space
Before you start moving boxes, inspect the moving truck for leaks. If you find a small leak, duct tape can work as a temporary fix. For larger leaks, you may need to return the truck for one with no leaks. If time does not allow for that, you can make a temporary patch out of plastic wrap and duct tape.
Lay towels and rugs along the entryway of the house and front porch to avoid bringing in mud and water. Lastly, ensure that everyone moving items is wearing appropriate shoes or boots. The ground will be slippery making it more dangerous when toting heavy boxes and furniture.
Set-Up an Assembly Line
If you have enough people helping you with the move, setting up an assembly line can make the move smoother and protect the house. One or two people can be inside handing items out to another person at the door, who then takes them to the truck. Likewise, if you can gather enough friends at your new home to do the same, you will save on wear and tear of your new floors.
Similar Posts
It's a natural for summer to be the most popular season for moving. You avoid the inclement weather of winter. If you have kids, you won't disrupt the school se...
Are you moving items that have considerable value or may be easily damaged and difficult to replace? You may want to protect those items with additional insuran...