If you are an expert mover, you already know about all the classic mistakes to avoid, such as moving during rush hour, undervaluing your moving insurance, and failing to obtain a written estimate.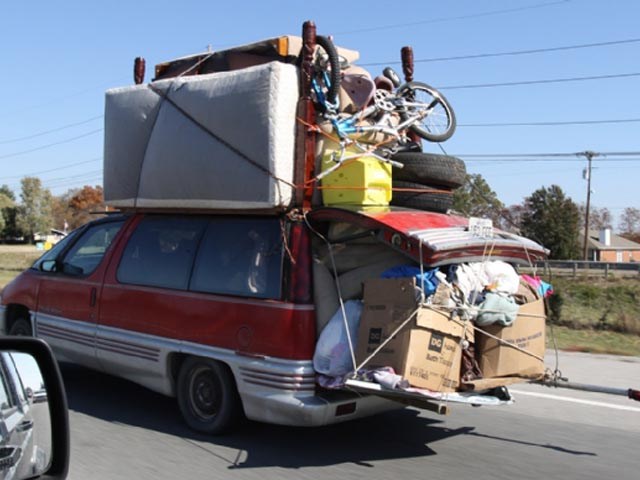 Those are definitely elements you don't want to forget or take short cuts with. Still, you might have a funny mishap that is totally unpredictable. Take a moment to review these moving fails that produce not only awkward moments, but also hilarious scenes.
So many things can go wrong during a move. The best medicine for these painful situations is a good belly laugh. See if you know anyone who has experienced these moving mistakes.
Truck size counts!
You may have a pickup that you intend to use for your move. However, be sure it's big enough to handle your household goods. Piling on chairs on top of couches on top of appliances may allow you to move in one trip, but you may also give fellow drivers on the road a reason for some cackling, snorting, howling laughter. Know the height of your moving truck before you start your haul and spring for extra insurance. Enjoy.
It ain't heavy, it's my sofa!
Measure, measure, measure! Before you and your friends try to haul your sofa up the three flights of stairs, make sure there is enough width and height in the stairwell. If you don't, this may be perfect comedy gold. We've encountered this DIY mistake before, and it's not easy getting a sofa that is stuck between the walls and ceiling loose and on its way to its new home.
Moving on overload
Similar to the first moving fail listed above, One of the most important moving mistakes to avoid is over-packing your vehicle. If you aren't careful and you don't keep track of your moving inventory, the situation could end up rather messy. Then again, you do get bragging rights for getting the move done in a single trip.
Awwww! That's so adorable!
Friends like to help, and it can be cool to invite your friends to help you move. However, you might accidentally make one of the most embarrassing packing mistakes known to man: letting a friend pack your bookshelf. The shame, the ridicule, the discovery that you still own a copy of Dr. Seuss's Hop on Pop. Pack your own books to save your pride and avoid prejudice.
It's difficult enough to avoid costly errors when you are moving, and hopefully this humorous take on moving fails will help you learn from other's hilarious mishaps.
Better yet, contact your dedicated, personal Global Van Lines Moving Concierge for complimentary, expert advice. It's no charge to you and comes with no strings attached. Happy moving!
Similar Posts
It's a natural for summer to be the most popular season for moving. You avoid the inclement weather of winter. If you have kids, you won't disrupt the school se...
Are you moving items that have considerable value or may be easily damaged and difficult to replace? You may want to protect those items with additional insuran...