Not all of us save our original box when we purchase a TV, but that box is the best one to use if you still have yours. Otherwise, purchase a television carton and use sturdy packing material such as bubble wrap. You may need another person to help you with packing the TV; however, if it is a large screen TV, you may want to consider custom crating as the best option.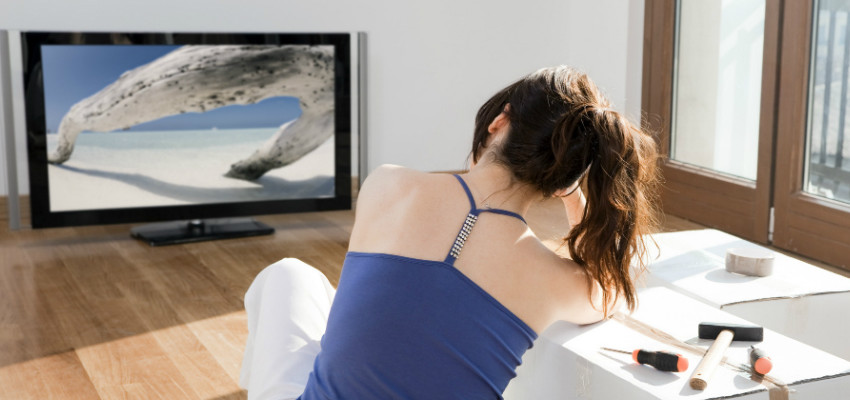 Packing a Television, Moving Big Screen TV's
Remove the cables and accessories, use rubber bands to hold them together, and pack them all together in a box clearly labeled which TV they belong to.
Use bubble wrap around the entire TV and tape it securely.
To get the TV into the box, you may need to have your packing partner hold the TV on end while you lower the box over it. Then you both can carefully turn the box upright to add packing peanuts and seal the carton.
Be sure to label the box clearly with "this end up" and "glass."
Protecting Your Electronic Devices
Our electronic devices contain valuable personal, work-related, and financial information that we cannot afford to lose. Yet, electronics can be very sensitive to temperature and static, and they require extra care with moving them with your other household goods. With proper packing your tablets and computers can arrive at your new home safely.
Prior to the Move – Full Value Plan
If you do not keep records of the cost of your electronic, gather together current retail prices and keep a list. This should include software and accessories. This will help you determine with protection plan to select from your mover. A full-value plan may be appropriate depending on the value.
How To Pack Your Home Electronics
A professional packer is usually the best qualified to properly pack your home electronics. If you pack them yourself, use the original boxes or cartons and packing materiel if you still have them.
If you no longer have the original packaging, choose a box slightly larger than the item so you can surround it with packing peanuts or other material once it is in the box. You can also use bubble wrap or clean, unprinted newspaper.
All electronics can be sensitive to extreme temperatures. As a precaution, consider backing up your files to an external drive prior to the move. If you have the external drive, as opposed to backing up your files to a cloud server, pack it in a separate box.
Remove the toner and ink cartridges from your printer. Take those with you rather than sending them on the moving truck. For laser printers, secure the printer head to keep it from shifting during the move, which can damage it.
The rest of your electronic accessories can be packed with clean, unprinted newspaper in a sturdy box. Be sure to double check your owner's manual, which may have special instructions for moving.
Unpacking Electronics At Your Destination
Carefully check off the electronics on the inventory list as you unpack them. If the items have been exposed to extremely cold temperatures, consider allowing them to reach room temperature prior to restarting.
Your Global Van Lines Moving Concierge can offer other valuable advice and tips for packing your TVs and electronics. A smooth move begins with Global Van Lines, and we are standing by to assist you with your relocation.
Similar Posts
It's a natural for summer to be the most popular season for moving. You avoid the inclement weather of winter. If you have kids, you won't disrupt the school se...
Are you moving items that have considerable value or may be easily damaged and difficult to replace? You may want to protect those items with additional insuran...