Moving can be stressful enough for the humans in your family, but what about Fido and Fluffy? In the midst of mountains of cardboard boxes, packing noodles, tape and moving trucks, you may not pick up on the signals your furry family members are putting out that signal stress. Here are some ways to ease their moving experience.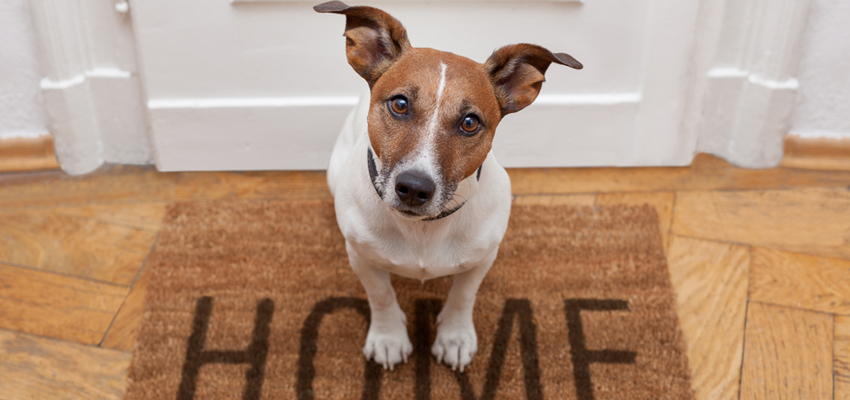 Moving to a New Home with Pets
Can you see your Great Dane in an 800 square foot apartment in a downtown, urban cityscape? You may not have as many choices as you would like, but somethings will help ensure a good home for the pets.
Take a walk around the neighborhood and make note of parks and other owners out walking their dogs. Do the dogs seem aggressive? Are the owners friendly? Are their loose animals running around?
Obviously, cats require less square footage, but they do like to have vertical space for climbing and hiding. Your dog will have individual needs. An older dog or puppy may need more trips outside, so stairs or a house with no yard could prove to be a hindrance.
Packing Up Your Home With Pets
Cats hate change. You can help you cat, or a nervous dog, by bringing in boxes several weeks early. Keep your furry family in a familiar room as you pack, and on moving day, keep them in a quiet room with food and water. This will ensure they can't run away.
Moving Day with Pets
Many pets haven't spent significant time in crates or cars. In the months prior to the move, begin to acclimate them to their crates. You can put food inside and let them get used to it. Try carrying your pets in the crate or taking them for a short drive. In addition, you can encourage them to develop a positive association with the crates or car trips by giving them a treat at the end.
Pet-Proofing Your New Home
It also makes sense to pet-proof your new home. Secure electrical cords, block nooks where your pet could get stuck, ensure that windows have secure screens, and remove any pest control poison traps that may have been left around.
Helping Your Pets Settle In
When you finally arrive at your new home, it might be very tempting to let Fido and Fluffy loose to let them explore. This is not always a wise action, especially for cats. Set up a space for them in one room as a home base, which should have their favorite foods, treats, toys, and water.
When they seem comfortable, let them out gradually into other rooms in the house, but keep some doors shut. You can relocate the litter box gradually to a more permanent location by moving it out a little bit each day.
With love and patience, Fido and Fluffy will be comfortable in their new home in no time.
Similar Posts
It's a natural for summer to be the most popular season for moving. You avoid the inclement weather of winter. If you have kids, you won't disrupt the school se...
Are you moving items that have considerable value or may be easily damaged and difficult to replace? You may want to protect those items with additional insuran...