Thinking of a DIY move? Many people prefer to save some money by doing it themselves. Knowing how to properly load a moving truck, van or trailer is crucial to transporting your household goods without damage. Here are some valuable tips for optimizing the load for efficiency and safety.

The Packing Process
It all starts by having well packed goods. Everything in the boxes or bags should be stable with adequate cushioning such as foam peanuts or bubble wrap. If you are moving drawers and leaving the contents inside, make sure nothing moves or rattles at all, otherwise the item could break, or it could destabilize the furniture and damage it. Take time to pack well, and have a good supply of tape, bubble wrap, and boxes.
Sealing the Packed Items
Not only do boxes need to be sealed, but doors and drawers need to be secured so they don't fly open during the transport. You can use rope, tape, or bungee cords wherever necessary. Pay special attention to drawers or doors that have glass, and secure them well prior to blanketing the outside.
Arranging the Load Within the Moving Truck
Loading a moving van, truck, or trailer begins with distributing the weight evenly. With most moves, you should load the household goods with the majority of the weight towards the front and less weight towards the back. This means that your furniture is likely to go in first with an effort to spread the weight equally side to side. Lighter items will be last to load.
Loading the Moving Truck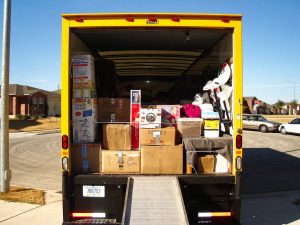 Although weight distribution matters, you will also want to consider which items you will need immediately. These things, such as a bed, sheets, a few sets of clothes, towels, and some kitchen items, should be loaded last. In addition, heavier, sturdier items should be loaded on the bottom, while fragile household goods, such as crystal and china, should be loaded towards the top with no weight above them.
Securing the Load in the Moving Truck
Whether it's a moving truck, van, or trailer, the load should be secured within the truck to prevent shifting during transport. Nearly all moving trucks have the capability to tie boxes and furniture with ropes to the truck walls. Check the connections well before leaving, and if you feel shifting during the move, stop and double check the tie downs to prevent damage. Heavy trucks with shifting contents can present a danger not only to yourself, but also to other cars on the road.
Similar Posts
Moving with young children presents challenges even during normal times. Now with social distancing guidelines during the coronavirus outbreak, packing up and m...
Making a move to a new home represents a huge transition in life. You hope that moving day is the end of that major transition; however, it can mark the beginni...