Moving your furniture and household goods is often a daunting task, and moving internationally only increases the amount of worry – unless you choose Global Van Lines to help you. We stand out from other companies because you can customize the services to suit your individual needs. In addition, we offer a dedicated Moving Concierge who will be your go-to resource your questions and needs throughout the move. Our extensive network of service providers includes only background-checked, licensed, and insured movers who are highly trained in all aspects of household relocation.
Why Use Movers to Load a Truck
Loading a Moving Truck, Trailer or Portable Storage Container – Loading a moving truck, trailer or portable storage container can be the most difficult part of a DIY move. You need experienced moving help to correctly load your household goods to maximize space and prevent damage during transit.
Doing the Heavy Lifting – Loading a moving truck involves a lot of heavy lifting. If you are not prepared, you could easily strain muscles or joints in addition to potentially incurring a serious injury.
Maximize Space – A Global Van Lines Moving Concierge will pair you with trained movers who know how to maximize the available space to avoid wasting money on an oversized truck.
Experienced Movers are Faster at Loading – Very few of us are in shape to move an entire household in and out of a truck. Loading a portable container or moving truck is hard work and takes a lot of physical labor. Professional movers are already in shape and will load your truck faster than you could.
Help with Unloading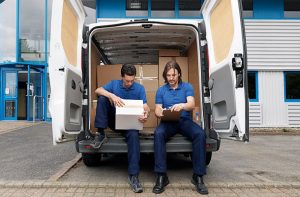 Moving Help to Unload Moving Trucks, Trailers and Portable Storage – Whether you are moving cross town, to a new state, or around the globe, your Global Van Lines Moving Concierge will help you find the right movers to help unload your household goods once you arrive at your destination.
New in Town – Most likely, you are new in town and do not have a network of family or friends to help you unload the moving truck. Global Van Lines has an extensive network of service providers ready to assist wherever you go.
Unloading and Room Placement – Part of unloading a moving truck means appropriate room placement of boxes and furniture.
Too Tired? – relocating a home can take days and weeks in some cases. Now that you have arrived at your new home, let the professional movers unload the truck, so you can focus on acclimating to your new environment.
Moving Equipment for Loading and Unloading
Your Moving Concierge will help you find the correct service providers equipped with the appropriate moving equipment.
Residential moving services are customizable and can include:
Expert crating and packing, palletizing, custom wooden crating, shipping, prompt delivery to your door, and careful unloading and unpacking.
Careful loading and unloading of automobiles and boats.
Movers who are highly trained in maximizing the space in moving trucks. Every inch of space is used.
Your prized possessions will be carefully shrink-wrapped, boxed and/or crated according to strict specifications of our company and your personal Moving Concierge.
Upon arrival to your destination, the same careful attention that was given to loading will be applied to unloading your items.
You can rest assured that your valuable items will be secure and intact upon reaching their final destination.
Contact Global Van Lines today to schedule a move, or to talk with a personal Moving Concierge.
We look forward to serving you. Our number is 1-800-823-0395.