Household Moving – Portable Storage
Global Van Lines understands that relocating can be a time-consuming and expensive task. Because of that, we provide you with local and long distance moving choices at affordable prices. In addition we offer time-saving solutions to make your move more pleasant and less taxing on your own energy levels. Whether you are moving across the city, or moving across the country, our portable storage solutions will help you every step of the way.
One of the best features of our portable storage solutions is convenience. When you select the Global Van Lines portable storage option, you bypass the process of trying to choose the right sized moving truck, only to discover on moving day that your household goods won't fit. Our portable storage planning process provides you with just the right number of containers so you never pay for more than you need, yet you have the maximum coverage for your personal belonging while staying within budget.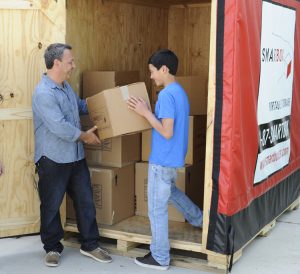 Portable Storage Unit Rentals
Our convenient portable moving units let you stay organized while determining your own pace. The units are delivered directly to your door, and this system allows you to categorize your belongings as you see fit. If you wish to pack room-by-room, you can. This makes unpacking and settling into your new dream home a breeze.
For more information about this convenient, easy-to-pack method of moving, contact one of our dedicated Moving Concierge today and learn about this handy solution to relocation. Call us today at 1-800-823-0395.